Kanela Booker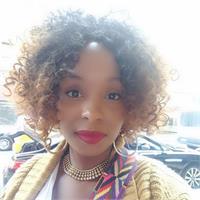 Kanela's journey in yoga began after the break-up of a long-term relationship in 2008. "It is funny how relationship break-ups initially seem to be tragic events, but can be used to bring about change and redemption as a person seeks emotional healing!" With a strong desire to find independent happiness and grow closer to God, she was introduced to yoga. After 2 years of consistent yoga practice, Kanela completed 200 hour yoga teacher training at Pink Lotus yoga studio in July of 2015.
The message that she speaks through yoga stems from my her experience and focuses on personal empowerment, self-worth, surrendering to God and living in strong faith and will. She is also quite passionate about demystifying yoga and increasing its accessibility to urban and underserved populations.
Kanela Booker instructs the following:
This is a 60-minute Power Vinyasa class. Be prepared to break a sweat as the studio is set to 90 degrees. The deeper your connection of movement and breath becomes, the more the heat begins to build inside you as opposed to around you; leaving you fully charged and present in each pose. Practicing in a heated environment increases your flexibility as it opens and loosens your muscles. Bring a towel and water bottle in with you, both of which we have available for sale at the studio

*The heat is not for everyone and can be overwhelming at times/upon your first visit. Listen to your body! Exit the class at any time if need be and a desk yogi will be there if you need anything.

Suitable for intermediate yogis; some prior yoga experience recommended. /

Balancing classes: Yin Yoga, Restorative Yoga, Gentle Yoga, Deep Stretch Vinyasa




In this one-of-a-kind power yoga class, we offer our yoga practice as worship to God by incorporating scriptural teachings from the Bible. This class integrates the mind, body, and spirit practice of yoga within a Christian context through breath, movement and meditation. We will blend traditional yoga philosophy (the 8 Limbs of Yoga) with Biblical scripture and teachings so that you may contact God's presence in your practice. Coming to this class will help you foster a deeper connection with God, ignite your faith and "...glorify God in your body." (1 Cor. 6:20). We are excited and cannot wait to see you there!This yoga workshop will be Held to a background of inspirational Christian and gospel music with all of the postures, balance, inversions, and vinyasas that you love in your power yoga class!"